If you find it difficult to express yourself, and you don't have a friend or relative who can support you, Tower Hamlets Independent Mental Health Advocacy service can help make sure your voice is heard. We believe no one should have to face a mental health problem alone. Our advocates are here to listen to you, to be on your side, to give you support and information and to help your fight your corner and ensure your voice is heard.
Our advocates will help you:
Express your views
Secure your rights
Represent your issues
Obtain the services you need
Our Advocates can go with you to:
Ward Rounds
Care Programme Approach Meetings (CPA)
Meetings appealing your section
Medication reviews
Discharge meetings (Section 117)
Community based meetings
Support qualifying clients through the Care Act needs assessment and review process
Support you through the section 42 safeguarding process
Our advocates can help you by:
Exploring your options
Helping you to make informed decisions
Resolving issues with your care and treatment
Accessing information (eg Health records)
Accessing other services
Helping you to write letters and make phone calls
Explaining the complaints process and progressing complaints
Help you to understand your rights under the Mental Health Act
Supporting you to prepare for a Care Act Assessment
Supporting you in CPA meetings or tribunals
Who is the service for?
This service is available for people living in Tower Hamlets area that are using or trying to access mental health services, the service is completely free of charge.
How can I access this service?
To access Tower Hamlets Independent Mental Health Advocacy service please call 020 7510 1081 or email [email protected]
Alternatively, you can download and print the referral form below.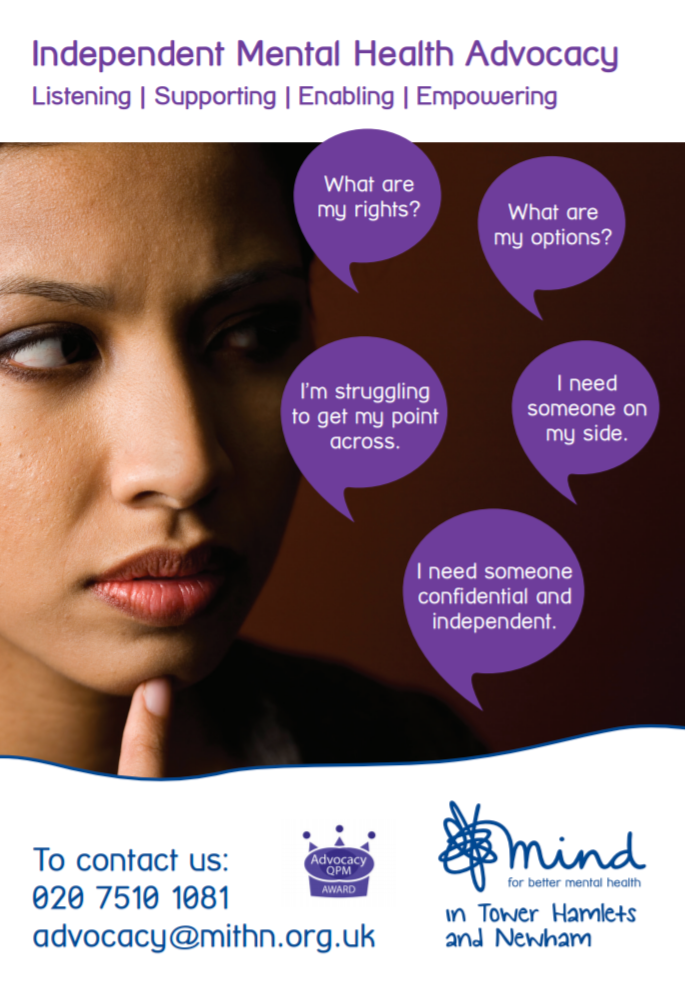 Supporters, Funders & Awards