Our Commitment to being an Anti-Racist/Anti-Discriminatory Organisation
We are committed to being an Anti-racist/Anti-discriminatory Organisation – we are advocates for racial justice and equality for all members of our community. We will continue to listen, learn, and keep taking action influence change. This is not a tick box exercise for us, this is for our community, this is for our staff, this is for all those that have faced inequity and inequality based on their gender, sexuality, ethnicity, religion, disability, age. We may just be starting, but we won't stop!
Our Voices – Sakinah Project 
We wanted to demonstrate that we, as an organisation have carried out the listening & learning, taking this time to educate ourselves. This will allow us to create the most supportive and culturally competent services for our community. We know that there will always be work to do but we are so proud our staff, clients & community for being part of this challenging but extremely insightful journey, with us. 
Our Social Media Launch of our Anti-Racist/Anti-Discriminatory work (10th October – World Mental Health Day)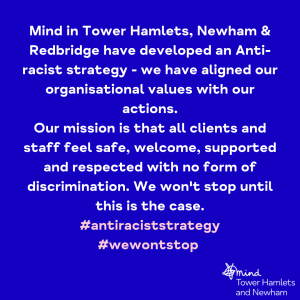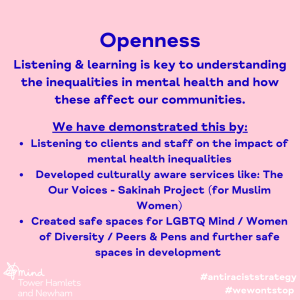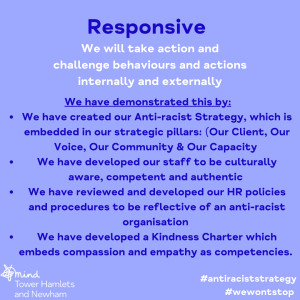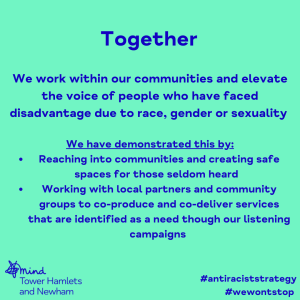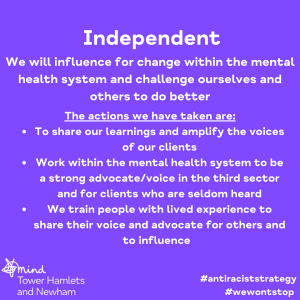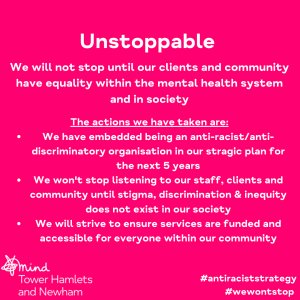 Our Journey (May 2020 – October 2022)
Our journey towards becoming an Anti-Racist Organisation started in May 2020, following the murder of George Floyd and the impact of the Black Lives Matter movement. We have always known that black people face discrimination as a result of structural racism within Mental Health Services.
We are responding to local diverse needs, engaging with seldom heard and under-represented communities and really listening. We are developing new services in partnerships with local people and grass root providers, developing peers leadership, and enabling people to be their authentic self.
Our model of listening. learning and leading change in our local community is fundamental for now and the future.
We, as a team, have created an Anti-Racist statement that we will induct all our new staff on but also have this as a focal part of our organisation.
We will intentionally learn, listen and re educate ourselves and we will not tolerate any discrimination, however minor. We have taken a significant and uncomfortable journey to get to this point, you can view our journey on the right. 
From this journey we have been able to work collaboratively to create our own organisational Anti-Racist statement. This has been adopted throughout the organisation and we are at the forefront of our community, speaking with other organisations that are also interested developing similar models. 
We have started, but there is a long way to go still!
If you would like to read more about our journey and how we got here, please feel free to find out more here.
Supporters, Funders & Awards