Jon and Jane, our Trustees and friends, are taking on the 24 Peaks Challenge for Mindthnr!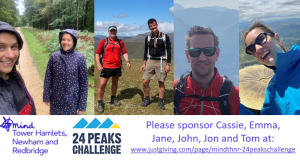 Jane, John and Jon volunteer as Trustees of Mind THNR and are joined by friends Cassie, Emma and Tom to take on this epic challenge which involves climbing 24 of the Lake District's highest peaks and covering 50km across 24 hours of hiking. They'll be ascending 3,500m in total, equivalent to climbing Ben Nevis, Snowdon, Scafell Pike (all from sea level) and a trip to the top of the Shard thrown in. They are incredibly enthusiastic about taking on the challenge on 20th and 21st July – as well as a little daunted.
They're raising funds to support the essential work that Mind THNR undertakes providing high quality mental health services and supporting the mental health and wellbeing of people across Tower Hamlets, Newham and Redbridge.
Their team will be benefiting from John's mountain leadership training to be self-guided in completing the challenge and the trip has been funded by themselves, meaning that every £ donated goes to fund the important work done by Mind THNR.
We'd be grateful for all donations, large and small, so please donate what you can, and why not encourage someone else to as well… Jonathan Rae is fundraising for Mind in Tower Hamlets, Newham and Redbridge (justgiving.com)
We'll keep you posted on their progress.
Thanks very much Cassie, Emma, Jane, John, Jonathan and Tom! 
Posted on: 20th June 2023